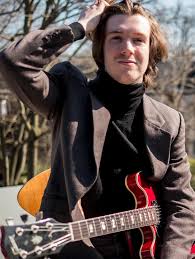 Jesse began playing guitar at a very young age and was put into guitar lessons at 10 years old. He absorbed the information that his teacher had to offer him at an accelerated rate and practiced diligently. He testifies frequently that his teachers were the ones who made him the
musician he is today, and seeks to motivate and support his students in the way his teachers did for him.

As a student in his final year at Humber College in their Bachelor of Music Program, he is well versed in a variety of genres and music theory. As a result, he is as comfortable providing insight and knowledge and playing in a jazz context as he is in a rock context or an R&B context to
everything in between. He is an experienced session musician who has recorded with a number of well-known Toronto-based artists. At Humber, he works and learns routinely from some of Canada's most notable musicians including Larnell Lewis, Neil Swainson, Kirk Macdonald, and
Jocelyn Gould. Additionally, Jesse has received a number of awards and Scholarships for musicianship that includes: The Steve's Music Scholarship (Ottawa Musicfest 2019), Ted Quinlan Guitar Award, and the Humber Community Music Leadership Award.

As a teacher, Jesse is committed to guiding students along their musical journeys at their own pace and is excited to help them learn the music that moves and connects with them as an individual. Jesse's teaching style often begins as free-flowing, especially in the early stages where skill level and musical interest are being assessed. After these steps, Jesse enjoys
maintaining more structured lessons around the student's interests, with a strong emphasis on unlocking their musicality through exposure to new music and content, mixed with time spent learning some of their favorite songs.

Jesse is a motivated teacher who finds great fulfillment in seeing development within his students. To him, teaching is a fantastic and motivating challenge to really break things down for any student so that the information is tailored to their individual skill set and level. Jesse is really
excited to work with you and help get you where you want to go on your musical journey.