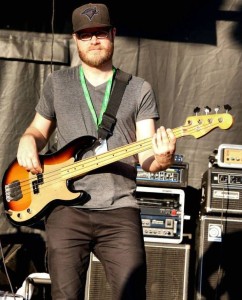 Kurt Nielsen is one of the most versatile and in demand bassists working today. Comfortable within motown, ameriacana, country, indie rock, bluegrass and classical Kurt has enjoyed a colorful and varied career thus far.
Kurt has toured/performed with Paul Reddick, Amelia Curran, Jadea Kelly, The Great Lake Swimmers, Andrew Austin, Melanie Brulee, and Stephanie Martin and many others. Kurt co leads the americana group the Ole Fashion, and is a full time member of the indie rock groups Banners. Kurt has worked with impactful producers such as Chad Irschick (Stephanie Martin, Susan Aglukark) and Stephen Kozmeniuk (Madonna, Nicki Minaj, Kendrick Lamar) and keeps busy recording commercial jingles for film and television.
Kurt's performance credits include Breakfast Television, The Jimmy Kimmel Show, tours across Canada, USA, and the UK, Mexico and the Caribbean, as well as performing at major festivals such as Lollapolooza, Osheaga, Way Home, Hillside Festival, and Mopop.
Helping mentor and inspire young musicians is also important to Kurt, and he has held his teaching position at On the Offbeat Music School for years. Kurt's philosophy is to connect people to the music that resonates with them and help them accomplish their goals.
Check out a video below of Kurt performing with his band: