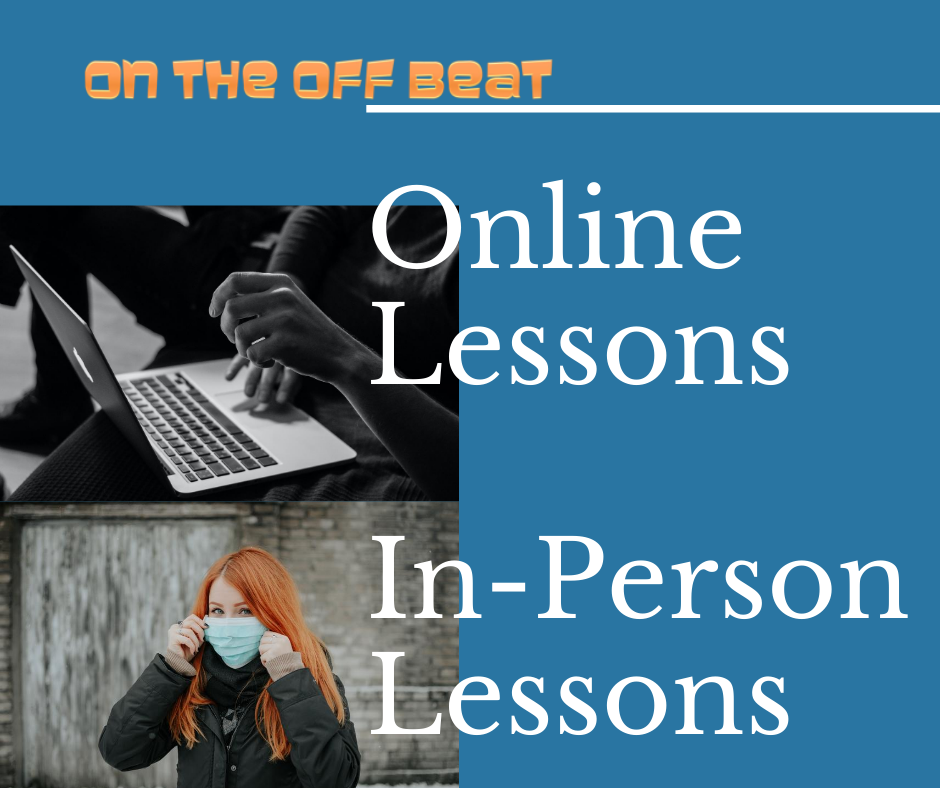 For new students to OTOB inquiring about lessons please get started by visiting: https://ontheoffbeat.ca/lessons-programs/private-lessons/
We are offering both online and in-person private lessons this fall! Please read the information below and be sure to check in with our Covid-19 page for updates on health and safety protocols and announcements: https://ontheoffbeat.ca/covid-19updates/
Regular Term Lessons
Private Lesson costs for 2020/21
———————————————————
30 minute private lesson = $37.50
Monthly membership payments = $146.25 (39 lessons for the year)
———————————————————
45 minute private lesson = $56.25
Monthly membership payments = $219.38 (39 lessons for the year)
———————————————————
60 minute private lesson = 75.00
Monthly membership payments = $292.50 (39 lessons for the year)
———————————————————
Adults only – 45 minute biweekly private lesson = $56.25
Monthly membership payments = $106.88 (19 lessons for the year)
———————————————————
Adults only – 60 minute biweekly private lesson = $75.00
Monthly membership payments = $142.50 (19 lessons for the year)
———————————————————
Yearly registration Fee – $35 per lesson membership
———————————————————
Lessons run from Tuesday, September 8th, 2020 – Saturday, June 26th, 2021
Monday lesson students – there are 35 scheduled lessons on Mondays, therefore you will have four extra lessons to book in with your teacher before the end of June 2021.
Friday lesson students – there are 38 scheduled lessons on Fridays, therefore you will have one extra lesson to book in with your teacher before the end of June 2021.
Registration Requirements
Payment for September lessons and the yearly registration fee of $35.00 is required upon registration. You will also be required to agree to our school policies which can be found at https://ontheoffbeat.ca/rates-policies/
Completed FALL REGISTRATION FORM 2020/21 must be submitted (form below). If the student is taking more than one instrument with us please fill out a form for each instrument.
Teacher Availability
Our first priority is to keep all of our teachers and students safe while continuing to make music this coming year. Please check below to see each teacher's availability for in-person/online lessons before registering (more teachers' availability will be posted soon so keep checking in!).
Online lessons from their home studios
Shilpa Sharma – voice – Mondays/Wednesdays/Fridays/Saturdays
*Please read this letter from Shilpa regarding the decision to only offer online lessons for voice*
Magdelys Savigne – drums – Tuesdays/Wednesdays/Thursdays
Meghan Chamberlain – drums – Tuesdays
Cameron Tinklenberg – electronic music and piano – Wednesdays/Thursdays/Fridays
Sarah Westbrook – piano – Tuesdays/Wednesdays and Saturdays
Kurt Nielsen – guitar and bass – Mondays
Karla Garcia Silva – Wednesdays and Fridays
Luke Welch – Mondays/Tuesdays/Wednesdays
To see sneak peeks of our teacher's online home studios click here!
Both In-Person and Online lessons from On the Off Beat Music School (Covid-19 Protocols must be adhered to for in-person lessons https://ontheoffbeat.ca/covid-19updates/)
Michael Skinner – drums – Tuesdays/Wednesdays/Thursdays (both in-person and online)
Magdelys Savigne – drums – Mondays (both in-person and online)
Meghan Chamberlain – drums – Fridays (both in-person and online)
Lee Wallace – piano and guitar – Mondays/Thursdays/Fridays (both in-person and online)
Zoe Henderson – piano and ukulele – Mondays/Tuesdays/Wednesdays/Thursdays (both in-person and online)
Ben Bishop – guitar – Thursdays (both in-person and online)
Kurt Nielsen – guitar and bass – Tuesdays (in person only)
Mandy Woo – piano – Wednesdays (both in-person and online)